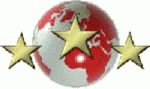 Homepage des Tages

Cozy's selbstgestrickte Kunst
tr. by Rainer Lingmann, ed. by Brian Robison

Cozy Bendesky strickt sich ihre Kunst fast buchstäblich selbst, handelt es sich doch um Textilkunst. Sieht aus wie abstrakte Kunst, ist ja eigentlich auch welche, aber das Medium überrascht!

Und wie sie selbst zurecht schreibt, hat Textilkunst -wenigstens wenn man sie nicht auf einer Webseite betrachtet...- den Vorteil einer deutlich erkennbaren Oberfläche, die in die künstlerische Wirkung miteinbezogen werden kann.

Auf den von ihrem Bruder? Mann? Vater? jedenfalls Robert gestalteten Seiten erklärt sie auch gleich, wie der ursprünglich weiße Stoff gefärbt wird und hat als kleinen Nebengag die Empfehlungen eines Lebensratgebers der 50er Jahre für die perfekte Hausfrau auf die 90er übertragen.

Macht für einen Abend rundum Spaß, diese Site!


Cozy Bendesky almost literally fabricates her art ..because in her case, it's textile art. It looks like abstract art, it basically *is* abstract art, but the medium's the surprise!

And as she herself rightly states, textile art (at least, if you're not looking at it on a web page) has the advantage of a clearly perceptible surface that can be integrated into the total artistic effect.

On pages designed by her husband Robert, she additionally explains how the initially white fabric is dyed. And, as a side gag, she's taken some 1950s textbook recommendations on how to be the perfect housewife, and updated them for the 1990s.

This site makes for an evening of all-around fun!
Click the

to return to the Cozy homepage.
---
Copyright © 1997 Robert & Cozy Bendesky.
All Rights Reserved. 29 May 1997