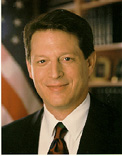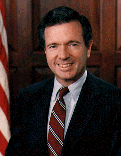 C O N G R E S S I O N A L
I N S T I T U T E
F O R T H E F U T U R E
Powerful institutional incentives in our nation — particularly in the Congress — limit the focus of the national debate to short-term priorities and crisis management. For policymakers, the budget cycle, the end of the fiscal year, the next election, and day-to-day crises demand attention. Schedules are so filled with meetings on one short-term problem after another that many leaders scarcely have time to consider the challenges the nation may face tomorrow. The Institute was created to provide opportunities for Members of Congress and business and academic leaders to exchange new ideas and new information about emerging trends, challenges, and opportunities.
The Congressional Institute for the Future, a Washington-based, nonprofit organization,* advances research and education about emerging issues. On a bipartisan, non-ideological basis, the Institute helps policy leaders in business and government understand, anticipate, and prepare for change. The Institute remains committed to fostering the spirit of bipartisan cooperation instilled by cofounders the late Senator John Heinz and then-Congressman Al Gore. The primary mission is to provide leaders with realistic projections of future policy challenges and to offer innovative solutions.
The Institute has ties to the prestigious Institute of Public Policy at George Mason University. The Institute of Public Policy lends its research, analysis, and economic and technology assessment capabilities to support the Institute's foresight programs. The Institute's foresight programs track social trends and economic forecasts, examine technology's impact on society, and offer substantive research on emerging issues and problems.
The Congressional Institute publishes reports and briefing papers, hosts major conferences, conducts bipartisan public opinion research, and sponsors a speaker series with visionary leaders from around the world. All programs are aimed at addressing those issues that most affect the nation's future economic and social well-being.
The Institute's products and services include:
Research and analyses of issues with long-term implications for the nation. The research and analyses results offer an early warning for potential problems as well as opportunities.

Informal discussions with world renown experts and innovative thinkers. The discussions frequently serve as a spawning ground for new policy approaches.

Demonstrations and discussions about new technologies. Hands-on experiences with exciting and innovative technologies often help leaders gain fresh vision of the potential applications of new technologies.
Leaders from the corporate and academic communities serve on the Institute's Board of Directors, which is chaired by a former Member of Congress. The collective expertise of the Board of Directors is available for guidance in project design and implementation of Institute projects.
The Institute takes pride in its history of bipartisanship and collegial efforts to look beyond the contentious issues of the present and to foster long-range thinking. While the Institute offers a unique platform for new ideas, discussion does not imply endorsement of a particular viewpoint or proposal.
SELECTED CONFERENCES AND PROJECTS
GLOBE INTERNATIONAL GENERAL ASSEMBLY: Cape Cod, MA — 1998
Conference speakers: Hon. John Edward Porter, Ian Johnson, The World Bank
FIFTY YEARS LATER — WHAT HATH GATT WROUGHT? — 1998
Conference speakers: Hon. Jim Kolbe, Hon. Tom Davis
GROUND RULES FOR THE GLOBAL ECONOMY — 1997
Conference speakers: U.N. Ambassador Bill Richardson, Senator Moynihan, and Hon. Dick Gephardt
THE FUTURE OF ENVIRONMENTAL LEADERSHIP — 1996
Conference speakers: Senator John Kerry, Hon. Sherwood Bohlert
EXPLORING OUR OCEANS — 1995
Conference speakers: Senator John Kerry and Representative Curt Weldon
UNIVERSITY CONTRIBUTIONS TO DEFENSE TECHNOLOGY — 1995
Interactive demonstrations of defense technologies
LEGISLATORS SUMMIT ON THE ENVIRONMENT — 1994
Conference speaker: Vice President Al Gore
THE FUTURE OF ENTITLEMENTS — 1993
Conference speakers: President Bill Clinton
Senators John Danforth and Bob Kerry, NBC Today cohost Katie Couric,
RURAL AMERICA: TECHNOLOGY FOR ECONOMIC DEVELOPMENT — 1992
Conference speakers: Senator Conrad Burns
CRISIS IN ADOLESCENT HEALTH — 1991
Conference speakers: Carnegie Corporation President Dr. David A. Hamburg and TV journalist Judy Woodruff
CHALLENGING THE INFORMATION AGE — 1989
Conference speaker: Al Gore
BIOTECHNOLOGY: THE RACE AND THE REWARD — 1988
Conference speakers: Senator Kit Bond and Senator Lawton Chiles
Representatives Ron Wyden, Tom Tauke, Ron Packard, and Constance Morella
TECHNOLOGY FOR LITERACY — 1987
Conference speakers: Secretary of Labor William Brock
With Representatives Kweisi Mfume, Ron Wyden, and columnist Carl Rowan
FUTURE OF LITERACY — 1986
Conference speakers: Barbara Bush, Senators Alfonse D'Amato and Representative Richard Gephardt
---
The 1999 Dialogues are funded by The Teresa and H. John Heinz III Foundation.
The Congressional Institute received past support for the Dialogues from Seimens Corporation.
Support for other Institute projects has come from the W. Alton Jones Foundation, Merck & Co., C.S Mott Foundation, the Carnegie Corporation of New York and others.