Adcom GFB-800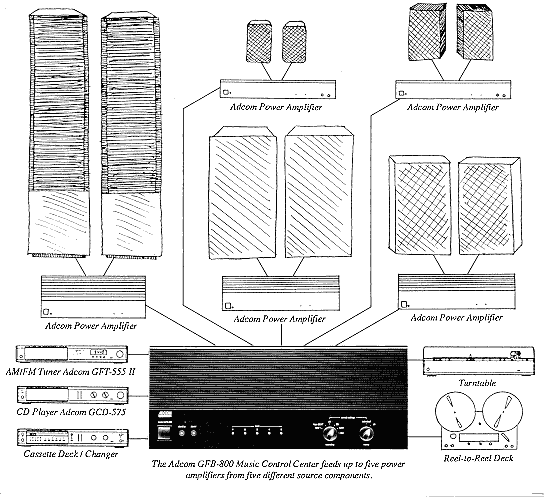 See related product information.
---
A New Concept in Home Music Systems
Music is playing a more important part in most households. Just about everyone loves music, but not everyone loves the same music. Until now, the only way for everyone in the same household to be happy was to take turns listening to the stereo or for each individual to have his or her own system. Adcom has solved this dilemma with its GFB800, an innovative new approach to a centralized, remote controlled music system.
Now, with the Adcom GFB-800 Music Control Center, you have individual, remote control of up to five different audio sources (CD player, FM tuner, cassette player, turntable [optional], reel-to-reel tape deck) in two or more rooms.
Until the introduction of the GFB-800, other approaches to providing music throughout an entire home have had serious limitations in either sound quality or in operational features, or both. At the lower end of the market, glorified intercom systems have long been available which do nothing more than distribute a mediocre quality of "elevator" music throughout the home. At the higher end, several audio manufacturers have offered remote controlled components which provide distribution of sound from the main system to other rooms.
While some of these systems offer better sound quality, they are still limited in their ability to play different sources in different rooms.
The Adcom GFB-800 Music Control Center, used with Adcom power amplifiers and remote sensors, delivers superior sound quality along with highly flexible system control in each room.
You Have Total Control In Every Room
Using the Adcom GFB-800 as a centralized control center fed by up to five different sound sources, each room has its own remote sensor, power amplifier and pair of loudspeakers. You can choose to use either one remote controller which you carry from room to room, or for convenience you may want a remote controller for each room. Upon entering that room, you can turn on your central music system regardless of where it is located in your home and select your choice of all available sources.
You can then choose and control any of the five sources as well as adjust the volume level in that room. This ability to control any source from any room is a truly innovative feature of the GFB-800 system that sets it apart from all other remote systems. For example, if you are using the Adcom GCD-575 CD player in your central system, you may select and use any of its functions as if you were in the room with the main system. Likewise, you can tune up and down the FM dial or select specific FM stations using Adcom's remote controlled tuner/preamp from anywhere in your home. And since the Adcom remote sensors have a repeater system built in, almost any infra-red remote component can be used and controlled within this system. A remote controlled cassette tape deck, for example, can be used and controlled throughout this repeater system.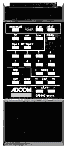 Multi-Room, Multi-Source
Having the power to individually select and control up to five different sources in two or more rooms will change the way you and your family listens to music. One person can listen to their favorite FM station in one room, while another listens to a CD in a different room, and you may listen to a cassette tape in still another room. Each person can listen at the volume level selected in that particular room. Perhaps the single greatest benefit of the Adcom GFB-800 is that it allows listeners in each area full control over the source selected and the volume at which it is played.
Add One Room At A Time
The GFB-800 is remarkably flexible and can be tailored to your individual needs because of its modular, plug-in design. Each GFB-800 comes with two plug-in "zone cards" and sensors which allow distribution and system control in two rooms.
You can subsequently add one room at a time by purchasing an additional plug-in card, remote sensor, a power amplifier and a pair of loudspeakers for each room. For even greater control, you may also add a remote controller for each room. This modular approach lets you install quality sound throughout your home, room by room, as your budget allows.
Large Scale, Daisy-Chained Installations
Music systems designed around the Adcom GFB-800 are limited only by one's imagination and budget, making it a perfect solution for very large scale residential or commercial applications such as installations in restaurants, offices or public spaces.
The GFB-800s can be daisy-chained, meaning they can be hooked together to give you multiples of five different rooms or zones. Two GFB-800s with the appropriate remote sensors and power amplifiers can, for example, provide sound in 10 different rooms. Three GFB-800s will provide individually controlled music in 15 different rooms! Designating rooms as zones and adding speaker selectors would give this system the ability to play music in over 60 rooms... all from one centrally located system of five different sources.
Designing And Installing Your System
For best results, designing and installing a multi-room system around the Adcom GFB-800 may require more than a casual knowledge of audio equipment. There are many details that should be considered if top performance is to be achieved. In cases of new home construction, you will want to also involve your architect and builder in the planning stages.
Your Adcom audio dealer is equipped and trained to help you select the right combination of components for your specific needs. Many Adcom dealers also have separate departments or divisions that specialize in the design and installation of customized music systems. We highly recommend that you visit your Adcom dealer to discuss your specific needs. The number of possibilities and scope of system design with the GFB-800 are virtually limitless.
As Always More Sound ... Less Money
Adcom has earned a reputation for delivering superior sound at reasonable prices. Many of its components, in fact, have been rated more favorably than others costing two and three times as much. The GFB-800 continues this tradition of offering more sound for less money.
Installing a large, multi-room music system around the GFB-800 is obviously not an inexpensive project. However, you can start at a moderate cost level and add additional rooms later. Its ingenious design makes such efficient use of high quality source components, that it is now economically feasible to provide a superior level of sound quality throughout your home. For a typical five room installation before the GFB-800, one would need five CD players, five tuner/preamps and five cassette players in addition to five power amplifiers and five sets of loudspeakers.
Now, with the GFB-800, the cost of four of these five sets of source components is eliminated along with the physical space necessary to house them. The money saved can be invested in higher quality source components, substantially improving the overall sound quality of your home music system.
If music plays an important part in your home, or if you would like it to, please visit your Adcom audio dealer and find out how the GFB-800 will let everyone in your family march to the beat of their own drummer.
---
Adcom GFB-800 Technical Specifications

Output Impedance
Rooms Output.....100 ohms
Tape Output.....475 ohms
Daisy-Chain Output.....475 ohms

Output Level (Rated)
Rooms Output..... 2.0V
Tape Outputs..... 2.0V

Output Level (Maximum)
Rooms Output.....>7.5V
Tape Outputs....>7.5V

Frequency Response ( ±0.5dB)
High Level.....5Hz-50kHz
Phono.....5Hz-50kHz

THD -Noise (at Rated Output, 20Hz-20kHz)
High Level.....0.3%
Phono.....0.6%

IMD (SMPTE, at Rated Output)
High Level.....0.7%
Phono.....0.7%

Signal-to-Noise (at Rated Output, "A" Weighted)
High Level.....100dB
Phono.....95dB

Input Impedance
High Level.....100,000 ohms/100pF
Phono.....47,000 ohms/100pF

Input Sensitivity (at Rated Output, 1kHz)
High Level.....310mV
Phono.....3.5mV

RIAA Accuracy (20Hz-20kHz).....±0.1dB
Crosstalk (1kHz at Rated Output).....-90dB
Separation (1kHz at Rated Output).....>85dB

General

Power (available in 220V or 240V on special order):
120VAC 50-60Hz

Power Consumption.....50 watts max.

Chassis Dimensions
17" (432mm) x 16 1/8" (410mm) x 6 1/2" (165mm)

Maximum Dimensions
17" (432mm) x 17 1/8" (435mm) x 7 1/4" (184mm)

Weight.....24lbs. (10.9kg)

Weight Packed.....28 lbs. (12.7kg)
Specifications subject to change without notice.

Related Products
Remote control accessories