See related product information.
---
Remote IR Accessories
Adcom's selection of infrared remote (IR) accessories enables you to maintain control of your music system from any room in your house and for any type of audio component.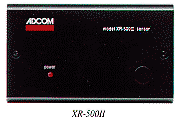 Adcom's XR-500II remote sensor with infrared repeater circuitry extends the remote-control capabilities of your main Adcom system to other rooms or locations. By aiming your Adcom infrared remote at the XR-500II you can control your entire audio system from a remote listening area.

For fully customized installations, Adcom's SPM-500II wall-switch-plate-mount remote sensor is the soul of discretion. Mounted in a standard terminal box, the SPM-500II performs the same function as the XR-500II and transmits all infrared control pulses directly to your system components. Barrier strip connections facilitate multi-room daisy chain in-wall connections for minimal impact on room decor.

And now with Adcom technology you can remotely control any audio component that has an infrared sensor. Adcom's IRA-500II infrared repeater assembly transmits and translates infrared commands to the remote sensors of non-Adcom products. When used in conjunction with an Adcom SPM-500II or XR-500II infrared signal repeater, the IRA-500II translates the commands and transmits them to your non-Adcom components as if the remote-control transmitter were in the same room. This system allows you to operate all remote control functions in a variety of locations for all your components with infrared receptors.

Adcom has simplified custom installations with a wide variety of interconnecting cables ranging in size from 1 meter to 15 meter lengths. This cable selection allows you to optimized the range and convenience of your listening areas, keeping you in constant touch with all remote controlled components in your audio system. With Adcom's infrared accessories and cable assemblies, you're always in control of the details.


Related Products
GFB 800 Multi Room/Multi Source Controller