Trompe l'oie
artwork by Cozy Bendesky, Lower Gwynedd, PA


Friends of ours once visited the Makenzie-Childs factory in New Hampshire, and fell in love with their whimsical style. They bought many cups and dishes, and furnished their home with them.

They hired Cozy to paint their home in the same style.

One very interesting thing she did for them was a piece of trompe l'oie based on a rack of dishes they had on display in their kitchen.

The plates on the left are the real deal; the plates on the right are Cozy's painting of plates in a similar style.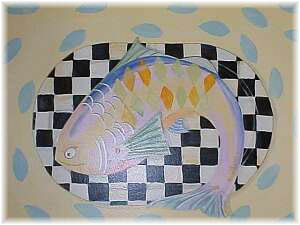 ---
© Cozy Bendesky 1997-2004
All Rights Reserved
Cozy can be reached @rcn.com
with the email name
cozyb
last updated
17-Oct-2007