A while ago, we went on a family cruise during the Thanksgiving holidays.
Here's where we went...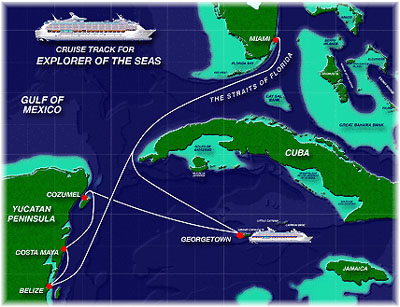 ---
One of the places we visited was in the Grand Caymans (No, I didn't open a savings account, but I suppose that if you do open an account there, you get something better than a free toaster.)
There's a place there called "Stingray City". It's a shallow sandbar, and stingrays gather there to feed. But they don't scavenge for food like normal stingrays; they are accustomed to being fed by hand by tourists. (What a life!)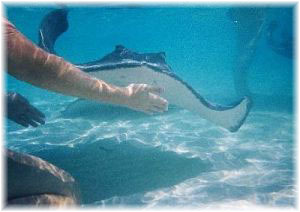 You make a fist, and shove a piece of squid into the hole your fist makes, and then place it in the water.
The stingrays will see the squid, and swim over to your hand. Then, guided by smell (as their eyes are on the top), they will suck the squid from your hand, just like a vacuum cleaner.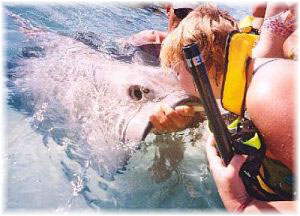 Their skin feels like wet chamois cloth. If you're feeling bold, you can glide your arms under them and gently hold them at the suface of the water.
They're so tame, you can even kiss them — on the nose, not on the mouth. Even my sister-in-law Kerry did it.
---
I explored the underwater world of Chankanaab on a deep-sea adventure aboard the Atlantis Submarine. I've always wanted to SCUBA dive, but never felt comfortable snorkling, so I was delighted to find that there was a way for me to get that "Jacque Cousteau" experience without even getting wet.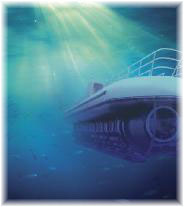 The Atlantis mini-sub holds 48 people and dives to a depth of 100 feet. That's actually deeper than you need to go, as most marine life tends to stay closer to the surface, where the sunlight easily reaches.
The sub takes you to the Chankanaab reef, part of the second largest reef in the world. It's an underwater nature preserve, with fantastic coral formations and countless species of tropical fish.
The tour lasts close to two hours, and you're submerged about half the time, and able to look out of the large portholes and see the variety of sea life. We spotted a barracuda, and I was glad I wasn't SCUBA diving. I don't know if they're aggressive towards humans, but it had a mouthful of nasty, pointy teeth.
---
Ever since taking an Archeology class in High School, I've been interested in the pyramids built by pre-Colombian Americans. My teacher, Manny Kramer, had traveled extensively in Central America and had accumulated artifacts and photographs that captured my imagination.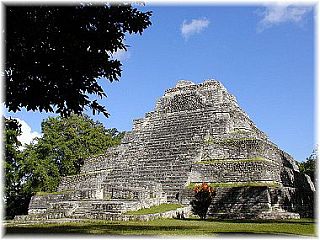 "Join your guide on this 4-hour narrated tour and experience the ancient Mayan City of Chacchoben. Largely unexplored until 1999, the Mayan City of Chacchoben dates back from 360 A.D. during which time it played an important role in the distribution of such precious items as wood, jade and exotic birds. After departing from Costa Maya, pass by lush tropical jungles en route to Chacchoben, where you will have the opportunity to explore the ruins and climb the stairs leading to the first plateau."
---
The Explorer of the Seas entered service in September of 2000. Cabins are air-conditioned with private shower, closet, phone and TV with movies; 50% with private balcony.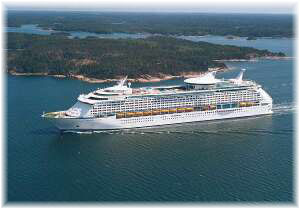 Amenities include: 24-hour room service, three restaurants; including the 3 story main dining room, bars and lounges, 3 outdoor pools, golf simulator, rock climbing wall, ice skating rink, broadcasting facilities, sports deck with basketball court, driving range, 9-hole putting course and in-line skating track, health spa, saltwater aquarium, children's services including a virtual submarine, computer lab and adventure beach, Royal Promenade—a main street with a 10-deck atrium and an 11-deck atrium featuring shopping, dining and parades—conference center, wedding chapel and medical facilities.
But honestly, the thing that gave me the biggest smile was the floor of the elevators. In the center of the carpet floor, there's a removable section, and it's changed every day at midnight. The section displays the current day of the week. "Oh, today's THURSDAY! I'd lost track."
My goal in life is to go on a cruise where the removable section displays the current month of the year.

---
© Robert Bendesky 2006
All Rights Reserved