San Francisco... 49 square miles surrounded by Reality.
A few years ago, we visited Cozy's dad, who lives near Twin Peaks in San Francisco. His house is built into the side of a hill, which affords him a fantastic view of the city below.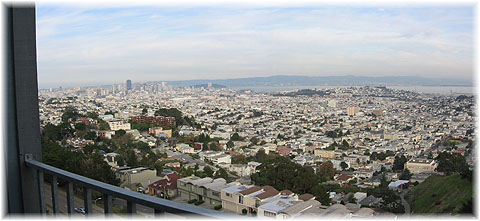 ---
One nice thing about Haight-Ashbury section (and much of San Francisco) is that the commercial shops are mostly "Mom & Pop" operations; not too many chain stores. In fact, when The Gap opened a store in Haight-Ashbury, there were protests.
Haight-Ashbury's Pork Store:
"Is it good for the Jews?"
Haight-Ashbury has panhandlers, too. Most just sit on the ground and wait for people to give them money. However, on one street corner I saw an interesting panhandling technique. Somebody had put a large bureau on the street corner, painted it black, and removed the drawers. The panhandler was sitting inside it, and a sign on top announced him as "The Guy in the Television Set."

As we passed, he asked, "Spare change?" We laughed at the elaborate setup, but declined to give him money. As we walked off, he called after us, "The Guy in the Television Set says, 'Don't buy from the Gap.'"
---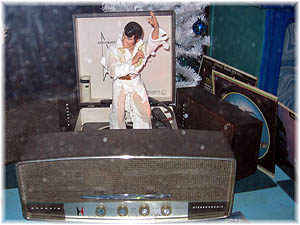 Since it was December, the Haight's stores had some interesting window displays. One store window featured a silver-spraypainted Christmas tree adorned with white feathers, chrome snowflakes, and mini disco balls. Another shop window featured an old turntable. The platter was spinning, and riding on it was a statue of Elvis. (I'm sure he was "All Shook Up").
---
When Cozy and I were in San Francisco, we got take-out at a wonderful Chinese restaurant, the Jasmine Tea House. My father-in-law told me about the time when ex-president Clinton came to the city. He stayed at the Fairmount, and his staff placed a take-out order with this restaurant.
When told they were delivering it to Bill Clinton, they assumed it was a prank, and sent the delivery boy to the hotel. When he got back, he told them, "It was Bill Clinton." The next day, the owner put together a second take-out order and personally delivered it to Clinton.
---
---
© Robert Bendesky 2006
All Rights Reserved