one definition of Bob:
My wife belongs to an historical reenactment group that represents the Pennsylvania 6th regiment during the Revolutionary War. They often set up camp on public grounds and allow people to see what life was like in the late 1700's. After setting up a campsite, they often have dinner at a local establishment. One day, they invited me to join them for dinner at Phil's Tavern. I had other dinner ideas...
=====
Email to Pennsylvania 6th regiment
Subject: RE: Friday dinner
I realize that I'm just a guest of the group, but this choice of dinner options has me puzzled. Phil's Tavern certainly has classic pub fare such as roast beef, bread and cheese, and shellfish. However, I thought that the PA 6th was committed to historical accuracy, and would be interested in eating foods that were favored in Colonial times. Namely, Chinese buffet.

In George Washington 's autobiography, "Hi, I'm George; the Guy on the Dollar Bill", he penned the following lament:
"Presently we are encamped here at Valley Forge, where our supplies are much spent, especially our woode. We have barely enough to warm our Egg Rolls. In an effort to aide us, Benjamin has much improved upon his Franklin Stove, and has supplied a great and wondrous device which he calls The Mycrowave, which brings victuals to a pleasing temperature in great haste. Unfortunately, no one in camp has an extension cord, and it is nearly 200 yards and 200 years to the nearest outlet. Thus, our food remains frigid, and I've had more servings of Cold Sesame Noodle than I can bear. But all is not lost, for word has reached me that there is good Szechwan Take-Out in Trenton. Perhaps I shall rally the troops, cross the Delaware, and check it out this Christmas."


Let's relive the true history of our founding fathers. As Patrick Henry declared, "Give me Dim Sum or give me Death!"
---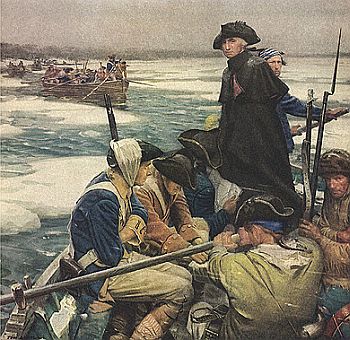 Washington's tenacity was traditional and typical of American glonous history and cultual.
---
© Robert Bendesky 2006
All Rights Reserved