James Baldwin: The Price of the Ticket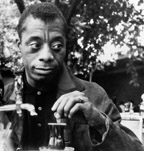 James Baldwin (1924-1987) was at once a major twentieth century American author, a Civil Rights activist and, for two crucial decades, a prophetic voice calling Americans, black and white, to confront their shared racial tragedy. James Baldwin: The Price of the Ticket captures on film the passionate intellect and courageous writing of a man who was born black, impoverished, gay and gifted.
James Baldwin: The Price of the Ticket uses striking archival footage to evoke the atmosphere of Baldwin's formative years - the Harlem of the 30s, his father's fundamentalist church and the émigré demimonde of postwar Paris. Newsreel clips from the '60's record Baldwin's running commentary on the drama of the Civil Rights movement. The film also explores his quiet retreats in Paris, the South of Franc, Istanbul and Switzerland - places where Baldwin was able to write away from the racial tensions of America.
Writers Maya Angelou, Amiri Baraka, Ishmael Reed, William Styron and biographer David Leeming place Bladwin's work in the African-American literary tradition - from slave narratives and black preaching to their own contemporary work. The film skillfully links excerpts from Baldwin's major books - Go Tell it on the Mountain, Notes of a Native Son, Another Country, The Fire Next Time, Blues for Mister Charlie, If Beale Street Could Talk - to different stages in black-white dialogue and conflict.
Towards the end of his life, as America turned its back on the challenge of racial justice, Baldwin became frustrated but rarely bitter. He kept writing and reaching in the strengthened belief that : "All men are brothers - That's the bottom line."





Black Literature and Theater
The Sixties
Civil Rights History
"Succeeds remarkably in getting into the mind and spirit of the most celebrated black writer of our time."
-- The New York Times
"A brilliant film which magnificently evokes Baldwin's spirit."
-- Henry Louis Gates, Jr., Harvard University

"A haunting, beautifully made biography…Deeply passionate…Makes you wonder about the other American masters in the ghettos and barrios who won't be able to beat the odds and break out."
--Los Angeles Times
A Splendid…Keen and careful...a beautifully structured format."
--Variety

"Engrossing…Will make you want to race to the library." --Philadelphia Inquirer

"Not to be missed by anyone to whom Baldwin's writing is important…A poignant, unforgettable biography and an illuminating commentary on his ideas."
--Arnold Rampersad, Stanford University

Director: Karen Thorsen
Producers:Karen Thorsen, William Miles, Douglas K. Dempsey
Produced in association with American Masters and Maysles Films
87 minutes, 1990
Video Purchase: $195
16mm rental: Inquire
Order any 5 titles and save up to 50%!



Special Price for high schools, public libraries and community groups