Premiering on PBS
RACE - The Power of an Illusion

Episode 1- The Difference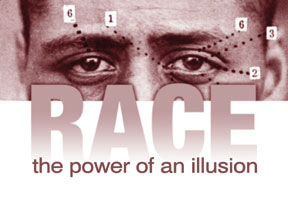 Between Us

Episode 2- The Story We Tell

Episode 3- The House We Live In
Helping Remedy American
Myths About Race
The division of the world's peoples into distinct groups - "red," "black," "white" or "yellow" peoples - has became so deeply imbedded in our psyches, so widely accepted, many would promptly dismiss as crazy any suggestion of its falsity. Yet, that's exactly what this provocative, new three-hour series by California Newsreel claims. Race - The Power of an Illusion questions the very idea of race as biology, suggesting that a belief in race is no more sound than believing that the sun revolves around the earth.
Yet race still matters. Just because race doesn't exist in biology doesn't mean it isn't very real, helping shape life chances and opportunities.
EPISODE 1- The Difference Between Us (56 min.) examines the contemporary science - including genetics - that challenges our common sense assumptions that human beings can be bundled into three or four fundamentally different groups according to their physical traits.
EPISODE 2- The Story We Tell (56 min.) uncovers the roots of the race concept in North America, the 19th century science that legitimated it, and how it came to be held so fiercely in the western imagination. The episode is an eye-opening tale of how race served to rationalize, even justify, American social inequalities as "natural."
EPISODE 3- The House We Live In (56 min.) asks, If race is not biology, what is it? This episode uncovers how race resides not in nature but in politics, economics and culture. It reveals how our social institutions "make" race by disproportionately channeling resources, power, status and wealth to white people.
By asking, What is this thing called 'race'?, a question so basic it is rarely asked, Race - The Power of an Illusion helps set the terms that any further discussion of race must first take into account. Ideal for human biology, anthropology, sociology, American history, American studies, and cultural studies.
"Different from other discussions of race because it's an argument…made methodically and with evidence. That we are all "created equal" is both superficially true as political rhetoric, deeply true as scientific fact and manifestly ridiculous when one considers the financial, educational and social inequities of our society."
- Philip Kennicott, Washington Post
Episode 1- The Difference Between Us

Episode 3- The House We Live In

LINKS
RESOURCES

SERIES BACKGROUND
Produced by: California Newsreel
Executive Producer: Larry Adelman
Episode Producers: Christine Herbes-Sommers, Tracy Strain, Llewellyn Smith
Series Co-Producer: Jean Cheng
2003, 56 minutes per episode
Closed-Captioned

Major Funding: The Ford Foundation and the Corporation for Public Broadcasting Diversity Fund.

Produced in association with The Independent Television Service (ITVS).

Video Purchase: $295 (Three-Part Series); or $195 per episode
Order any 5 titles and save up to 50%!




Special Price for high schools, public libraries and community groups
"By far the best documentary series on race of the last decade."
- Troy Duster, former president American Sociological Association
"This eye-opening look at why race is not biologically meaningful yet nonetheless very real needs to be seen by all scientists and the general public."
-Donald Kennedy, Editor-in-Chief, SCIENCE, former president, Stanford University
"One of the most honest and compelling documentary series I've ever seen on race and its impact on this nation's culture and politics, as well as on the economic status of nonwhite citizens."
- Acel Moore, Philadelphia Inquirer
"One of the most important, sweeping and groundbreaking documentaries in recent memory."
- Esther Iverem, BET.com
"A powerful and compelling portrait of our fundamental human connectedness. Shows us how to look at the world differently, without the preconceptions and prejudices that so often cloud our vision."
- Steve Olson, author Mapping Human History: Discovering the Past Through Our Genes
"Watchable and informative...richly relevant"
- Patrick Butters, Scripps Howard News Service
"A marvelously intelligent documentary. A timely reminder that social divisions are made, not inevitable."
-Patricia Williams, The Nation
"Insightful. Easy to watch, even entertaining as it educates. You will not see race the same way after watching the series."
- Jerry Large, Seattle Times